Philip introduces us to some pioneering creatives from across the decades who have challenged gender style conventions.
Before Grace Jones's fierce high-top afro hair and k.d. lang's hip swaggering men's denim looks, iconic artist Hannah Gluckstein (1895 –1978), nicknamed 'Gluck', was blazing a trail in the 1910s in the evolution of modern art and queer gender style. Gluck dressed almost exclusively in men's clothing and had love affairs with numerous women, who all inspired her hand to paint those magical paint strokes. Financially independent and relatively free to be herself for the era, Gluck is now considered to be pioneer for LGBTQI* lives.
The appropriation of masculine dress by women to create identities for themselves has a long and brilliant history.
Throughout the 20th and 21st centuries, Gluck and her contemporaries changed many people's perception of feminine and masculine dress. From actors Greta Garbo, Marlene Dietrich, Katherine Hepburn, and Diane Keaton in the film 'Annie Hall' to musicians like Patti Smith, Grace Jones, Annie Lennox and k.d. lang. Phew what a list!
Fashion designers also got in on the act including legendary Yves Saint Laurent, with his iconic 'Le Smoking' (a tuxedo for women).
These iconic women and creatives chose to express their identities through masculine style, and challenged how people thought about identity, gender and sexuality.
Diane Keaton in 'Annie Hall'
Watch 'Annie Hall (1977) Best Scenes'posted by Renne Cuisia on YouTube to see more of the character's classic menswear looks
Grace Jones
Watch the trailer for Grace Jones' 2017 documentary 'Bloodlight and Bami', directed by Sophie Fiennes.
Annie Lennox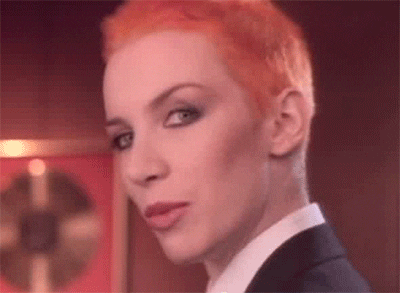 Yves Saint Laurent: Groundbreaking 1966 Creation Le Smoking Tuxedoes
Step beyond the tuxedo with a whole museum devoted to Yves Saint Laurent
Buffalo Movement
Find out more about Ray Petri's influence at Volt café
Interested in fashion styling, photography or hair and make-up or creative direction?
BA (Hons) Creative Direction for Fashion
BA (Hons) Fashion Styling and Production
BA (Hons) Hair and Make-up for Fashion